As a small but growing digital agency we're always learning and doing our best to make sure we've got a happy team and happy clients. Last week was Mental Health Awareness Week in the UK and we took the opportunity to do a few fun things, chat more openly and bust some of the myths around mental health. It's a truly important topic, even more so in an industry like ours where staff often work remotely.
HappyKite Happy Mind Lucky Dip!
We had a team lucky dip, everyone got two prizes throughout the week – some were silly things to make people smile, others were vouchers for things like extended lunch breaks to go for a walk or to read a book. Jenny hit the jackpot and won a bonus day off work – which does come with homework, she has to spend some time on a hobby, go outside and send the rest of us photos of what she got up to that day instead – and she has to avoid screens as much as possible!
The Whiteboard of Myths!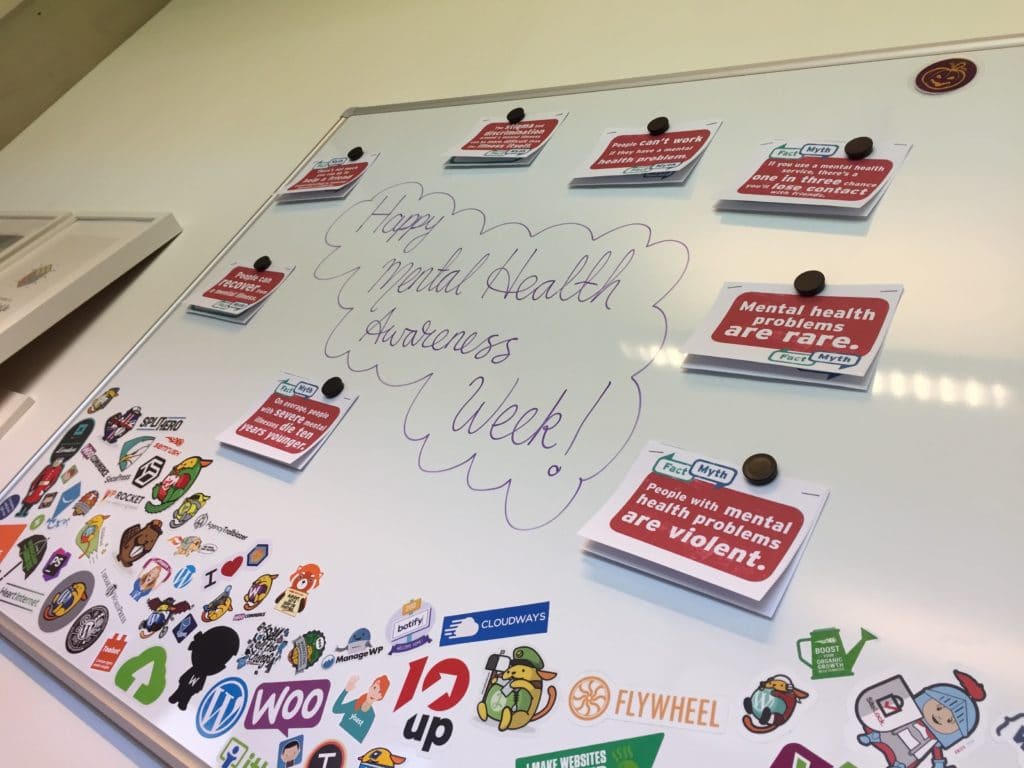 Adelaide channeled her early career as a primary school teacher and produced a display with common mental health myths on it, for instance did you know that if you use a mental health service, statistically there's a one in three chance that you'll lose contact with friends as a result. There is still such a stigma around mental health issues that people often don't know how to help or feel uncomfortable so lose contact. As we learnt from the display, you don't need to be a mental health expert to be a good friend, small things like phone calls or messages can make a significant difference.
Pets in the Office
We're fortunate that Basepoint is a pet friendly building and sometimes will have pets in the office, but this week we made a point of having the dogs in. Just stroking, sitting next to or playing with a pet can really help to relax and calm anyone. A significant and growing number of studies have shown that pets, in particular cats and dogs, can help with numerous issues linked to mental health from depression and PTSD to addictions, stress and general feelings of loneliness.
On Wednesday we had Ollie the Miniature Schnauzer-Cross and on Friday we had Tori the Border Collie, both were excellently behaved and forced us all to take breaks and step away from our screens to play with them. They're both welcome back any time!
Mental Health Quiz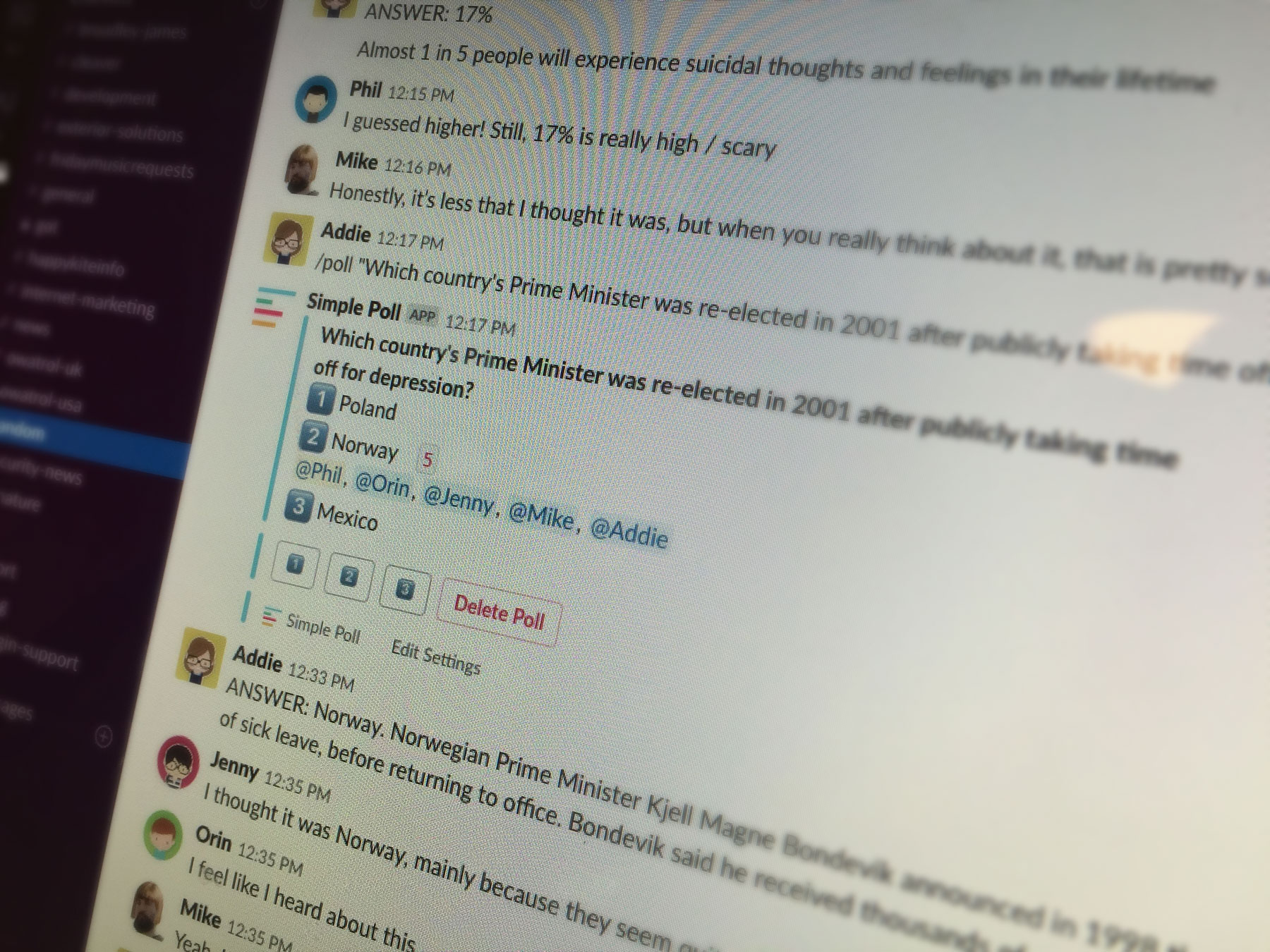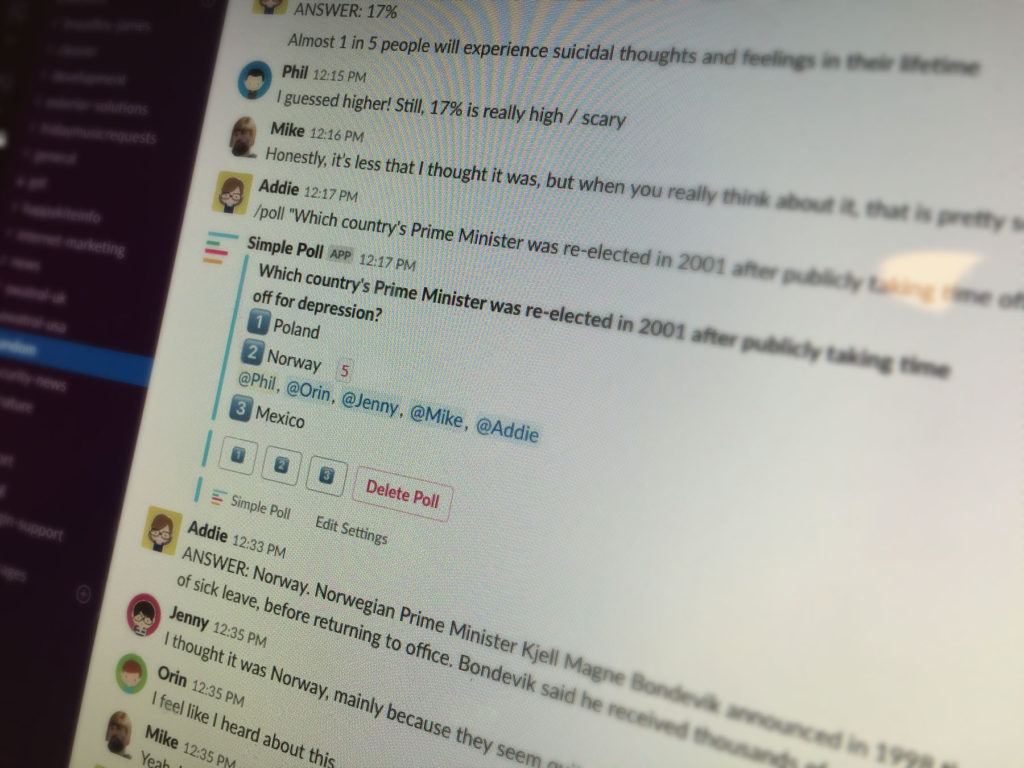 Throughout the week, we had an ongoing quiz on on our team Slack channel where we were asked a variety of mental health questions with multiple choice answers, we voted on the correct answer but were often wrong. Some of the things we learnt were very eye opening and often quite sad. One particularly close to my heart was learning that over two thirds of all people suffering from severe mental health issues cited work stresses as being a contributing factor to their condition. We really all need to do a better job of promoting positive mental health, both in and out of work.
Happy Clients = Happy Life
One way to ensure we're looking after our team is to ensure we have great relationships with out clients. If we get on well with our clients and genuinely want to see them succeed and grow then work feels more like a collaboration rather than just selling time and skills. During mental health awareness week, we visited two clients where we had over-delivered and built them extra tools that they hadn't paid for but we knew they'd love. We also bought cupcakes with their logo on …you can't go wrong with cupcakes!
Mental Health in WordPress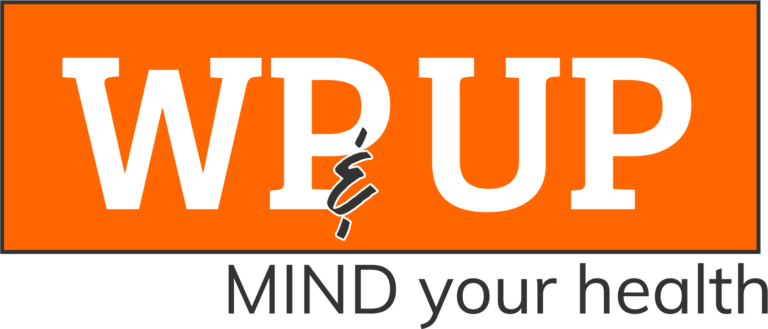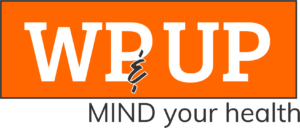 A really scary statistic is that 8% of people within our industry will have had genuine suicidal thoughts in the past 12 months; if you're a business owner, freelancer or often work remotely then you are more vulnerable to mental health issues. This is a real concern when surveys show that more than 50% of the WordPress community routinely work alone. If you're working in WordPress and struggling in any way then we thoroughly recommend reaching out to the lovely team at WP&UP. They are a registered UK charity who support people working within our community to be happy and healthy.
They focus on 4 core hubs with positive mental health at the centre of all they do but recognise that other factors can contribute to mental health issues. So as well as helping with direct mental health issues such as anxiety, depression and addiction – they also offer support and coaching in business skills, web design & development skills and physical health.
Where do we go from here?
We're a small company and obviously cannot support our team if we cannot remain profitable and sustainable so we must take a balanced approach to all that we do. We already offer flexible working, a shorter working day and generous holiday allowance to our team. We allow people to work remotely at times but we mostly work together from one office. We have music Friday where we share a Spotify playlist and play music into the office to combat everyone sitting in isolation with headphones on.
This is a great start but we want to continue to improve our dialogue around mental health in the workplace. We don't have concrete policies for what we could and should be doing if a member of the team has a severe mental health issue and we haven't identified processes for reaching out. We also aren't spending enough time talking one-to-one with our team about their well-being to ensure they're happy and growing within their roles and outside of them, we aim to change that.
Wherever you are in your business, however big or small – there are things you can be doing to promote a more positive mental health environment. We're not claiming to be all that good at it yet but what is important is that it must become a regular consideration in all companies, not just something we think about once a year. If you don't know where to start, from our experience any gestures, however small, are greatly received.